NB. Since all of this kicked off The Moff has issued a kind of 'get your kids of my lawn' response and private Eye basically suggested that the BBC leaked the news in an effort to undermine Moffat, with whom it is quickly losing patience. Make of that what you will.
A new Doctor Who film? Those fans who might conceivably have watched The Twin Dilemma when originally broadcast may recall a few other Doctor Who films supposedly in the pipeline through the decades.
Tom's Doctor Who meets Scratchman, written by himself and Ian Marter, starring Vincent Price and funded by crumpled £1 notes mailed to Tom from keen fans.
The ones suggested in the very early 90s that would star Donald Sutherland and feature a rapping TARDIS perhaps (I defaced the images of Sutherland in anger) or the more recent Tennant-and-Piper rumours.
Then there was the TVM. Well, they got McGann pretty much right, but the rest was an absolute mess - a more fitting example you could not find of what happens when people who don't understand or care for Doctor Who make Doctor Who.
Today has brought with it the news that Harry Potter director David Yates will helm a new Hollywood film featuring a strange character called Doctor Who (never heard of him) that will reboot the series and stick two fingers up at 50 years of canon.
Quite why these rumours have come to light again - about two years after they were first mooted and repeated today with historic quotes - is not clear. Are BBC Worldwide trying to kickstart the project? Has a bored hack in search of an article dug up an old story? Or has someone sniffed that something is actually happening on this front?
We'll wait and see. For now let's look at the claims Yates made about his new film. In a move that could not have alienated the show's fanbase more if he's threatened to cast Vin Diesel, Yates claims that the film will be "starting from scratch".
Why on Earth would you do that? The show has the most malleable format in the genre, perhaps all TV. You can change the lead cast without ditching anything. This is something that has happened innumerable times over the show's history.
If Yates wants a good example of how to kick off a new series - or new interpretation - he need only look to Rose, a terrible episode but a great example of kickstarting something new without abandoning all the good stuff.
It's an important reminder that we've had people at the helm who cared about the show - we know that RTD kiboshed stuff like a female Doctor, a Young Doctor Who series on CBBC and more; and that even Tennant was very protective of what the show did and didn't do.
It's impossible to image Moffat taking the show into taboo territory too. We've been lucky that since the reboot - and in the good old days - we had people who looked after the show as best they could.
Unfortunately, Worldwide is a financial entity and must surely be scenting hard cash and, conceivably, a billion-quid money-spinner like Lord of the Rings or Harry Potter over a multi-film series that would make the TV show look like A Fix With Sontarans in comparison.
That's presumably the thinking behind recruiting a director with no apparent understanding of Doctor Who whose looking to recruit a writer with no apparent understanding of Doctor Who.
Yates pays tribute to Davies and Moffat's visions - and in the same breath announces that he's going to trash it all. Where's the logic to that?
He also says Doctor Who "needs quite a radical transformation to take it into a bigger arena". Does it? Isn't the exact point of the show - its appeal and its essence and its very artron energy - that it's a quaint little British show? Certainly it does epic storylines and its format and tone is elastic but it's always recognisably the same.
RTD and Moff clearly understand this and fandom has largely taken to their series. Perhaps it didn't need older fans, but the likes of the two show-runners are fans after all.
The show doesn't necessarily need a fan to take it to the big screen - or a Brit. But I feel sure that it would be a better product for it - and we have two people who can wield an enormous amount of power in the TV and media world, not to mention people like Neil Gaiman, Stephen Fry and Mark Gatiss who are steeped in the show and are professionals in their own right.
Alas, if what we read is to be believed then Yates directing makes perfect sense in the eyes of BBC Worldwide. They won't give two flying figs if the Doctor carries a gun, shags a busty American and has a time capsule voiced by Mos Def (actually, I like Mos Def, that could work) if it brings in the bucks.
What would this do for the TV show? Undoubtedly, if successful, it would kill it off. How could you have a TV series and a film series running in parallel that directly contradict one another? The film idea dovetails with the growing suspicion that Who might bow out on the small screen shortly after the 50-year anniversary. Torchwood, in all likelihood is gone. The Sarah-Jane Adventures are sadly no more. Confidential is canned. In a very short space of time Doctor Who has been whittled away to the main show, and there are increasing ructions over production, money and quality in the mothership.
All told then, I don't really see an upside to the film. We've had six largely enjoyable seasons of NuWho that has given repeated, respectful nods backwards. It's all about to be usurped by a new film series that chucks it all in the bin.
The two films we have are cute curios, but they're hardly high quality. The abandoned film projects all looked awful. The TVM was dreadful. Yet the BBC appears to have learned nothing.
Doctor Who doesn't need a film. If it's coming to an end as a going concern on TV the natural development is to segue into a 'specials' format. Canon or the heritage aren't the issue I have with a new film. I simply fear it would be bloody awful - and history has plenty of warnings when it comes to big screen Who.
Just discovered these outtakes from some corporate shite Tom Baker was, for some reason, employed to do back in the mists of time - for Symphony Group as far as I can tell.
It's Tom in full Horror of Fang Rock mode, deriding scripts, lexis and punctuation that he finds lacking - despite the fact that he clearly contradicts himself on some points.
Things take a macabre turn towards the end, but I'll leave you to discover how.
All told it's genuine laugh-out-loud stuff, Tom's sarcasm and vulgarity coming through beautifully. It's no wonder he found himself unemployable for a couple of decades, and it shouldn't leave any doubt that Tom can be a funny bugger - or a rude and fearful man if you're a producer.
I expect every one of his Who companions from Lis Sladen onwards would not be surprised.
A few choice quotes
You want me to sound like a fucking disc jockey!
Symphony ...even for monkey shaggers!
I adore distilled whippet shit
I can go on, this is so emotional I'm getting a stalk on here
...people who haven't been to sleep since 1946 will be in a fucking coma... in fact they['ll be in an irreversible coma... apart from that I find them quite fascinating
How did the world ever exist before fucking Symphony came into it?
That'll be number one in the fucking Singapore hit parade!
Symphony - it brings tears to my eyes just to say it
I don't known if I've ever been quite so stunned by the death of someone I'd never met as when I discovered that Lis Sladen had died.
I simply couldn't believe it. Literally. Surely an error? Cancer? But she was in the Sarah Jane Adventures just six months ago, with a new series on the way?
And Lis looked so young. Quite extraordinarily so. How was this possible?
But it was. I haven't seen anyone in fandom claim to have had knowledge of Sladen's illness. In a lovely tribute on his website, Tom remarks that he didn't even know she was ill – and they always seemed so fond of one another.
Of course I was saddened by Nick Courtney's death – everyone in the Doctor Who world felt his loss keenly; such a lovely man and a good friend of the programme and its wider world.
Lis too, but Nick was in his eighties and it was generally known that his health was failing. He was an old man. Lis was, in this day and age, not old – nor did we anticipate her death.
There is, perhaps, something more to it. Her recent television appearances and new-found fame meant Lis Laden, more than anyone, had a foot in both camps – classic series and new. She was as familiar to a generation of parents in the modern day as much as their children.
Both will feel the loss in different ways; adults finding a small part of their youth is gone and youngsters recognising that one of their current television heroes is gone.
To play the same character for a decade is rare these days. Not even any of the Doctors have been playing their own roles for as long as Lis Sladen played Sarah Jane Smith – a strong character brought to life by Lis Sladen, to the extent that the character, and and actress, were regulars on the most popular TV channel in the UK for over 35 years.
Goodbye Sarah. Goodbye Lis.
It was pretty refreshing to see the Eleventh Doctor punching some bloke's lights clean out on the new series trailer than showed back in January, following a few years of sanctimonious stuff from RTD and Ten about how 'violence is bad, m'kay?'.
So much so that it stirred my mind back to a simpler time when The Doctor would casually dispatch villains in a variety of ways, including blasting them with guns, pushing them into acid baths and gassing them with cyanide. The good old days, as I like to call them.
So, I've compiled a list of ten moments of shocking violence in Doctor Who - perpetrated by the Time Lord himself.
1. An Unearthly Child
The original and the best. The First Doctor is stopped by Ian, seconds before he stoves in the head of a wounded caveman with a rock.
2. The Dominators
The Second Doctor places a nuclear device on the Dominators' ship, blowing them out of the sky.
3. Inferno
The Third Doctor smilingly explains to the Brigadier than the Venusian grip he has applied to Stahlman will soon paralyse him for life. Similar venusian chops, kicks and jabs pepper the Third Doctor's era.
4. Day of the Daleks
The Doctor casually blasts an approaching Ogron, blowing Ten's 'be the man who never would' speech out of the water.
5. The Brain of Morbius
The Fourth Doctor gasses Solon with cyanide, in a move that could easily have left him and Sarah sealed in a crypt forever.
6. The Seeds of Doom
Four punches out a henchman with a thinly-disguised relish. Later on he twists Scorby's neck, as if to break it, after punching him in the gut.
7. Arc of Infinity
The Fifth Doctor simply shoots Omega.
8. The Twin Dilemma
The Sixth Doctor tries to strangle Peri to death.
9. Vengeance on Varos
Take your pick. Doc Six maneuvers two guards into a BATH OF ACID and leaves two different booby traps involving stinging plants and a laser to kill two cannibals and a guard.
10. The Two Doctors
The Sixth Doctor chloroforms Shockeye to death.
I've got nothing on the rest, barring the Seventh Doctor's disabling of Patterson in Survival and the Ninth Doctor's knocking out a guard in the one where Rose turns into the Time Vortex, or whatever the hell it is that happens in that episode.
Have I missed any obvious ones? It wouldn't surprise me to discover that Hartnell stabbed someone in the neck in one of his less obvious stories.
Andrew Cartmel's memoirs of his time on Doctor Who as script editor between 1978–1989, Script Doctor, have somehow fallen into the hands of a journalist at the Daily Torygraph.

Incredibly, the journo in question has churned out a piece of work even more absurd than Cartmel's opus (in which he revealed that he spent most of his time on the show lusting after Sophie Aldred) by revealing that the seventh Doctor's tenure was, in fact, a secret attempt to bring down Margaret Thatcher's government.
Some quotes of Cartmel's from Script Doctor are recycled, and added to some obviously less-than serious stuff from Sylvester McCoy on why it seemed like trying to overthrow Thatcher by making Silver Nemesis was 'the right thing to do'.
Add in two killer blows in this fearless expose – the fact that Ben Aaronovitch is the son of Sam Aaronovitch and the fact that Rona Munro once worked on a film with Ken Loach – and the case looks pretty watertight.
But wait, there's more. In what is almost certainly the first time anyone in the world has heard of it, the Telegraph dredges up the fact that the antagonist in the spin-off novel Turlough and the Earth Link Dilemma antagonist is called Rehctaht – 'Thatcher' backwards.
It's left to the Daily Mail to deliver the hammer blow:
The revelations appear to confirm claims that the 1980s BBC opposed Mrs Thatcher's government, with the then Tory chairman Norman Tebbit claiming it was in the hands of a 'Marxist mafia'.
Indeed they do. But Probic Vent can reveal that the conspiracy ran far deeper than Cartmel's Masterplan. Other Dodgy Doctor details uncovered by us reveal:
• Cartmel originally wanted to replace Bonnie Langford with ARTHUR SCARGILL as McCoy's companion when the former bowed out.
• Marc Platt spent three months as a guest of the KGB while writing his second draft of Ghost Light in 1988.
• Sophie Aldred had an affair with LES DENNIS in the early 90s
• McCOY, along with COLIN BAKER, PETER DAVISON and TOM BAKER meet regularly at a number of hotels around the country to hold emotionally-charged rallies for their followers
Most damning of all, the ultimate aim of Cartmel's conspiracy was to replace The Queen as Head of State with John Nathan-Turner.
Knockout collector item or cynical cash-in? Make your own mind up about Time Out's Doctor Who In London special, complete with ten different cover. Guess, if you can, what's on them.

Yup, the whole damn lot of them in a number of Doctor+London image pictures of varying quality and relevance.
All the covers attempt to picture the various incarnations of the Ka Faraq Gatri in front of a London landmark that supposedly bear some relevance to one of their adventures, so for Hartnell it's the Post Office Tower; Troughton Saint Pauls; and McGann, er, the Houses of Parliament.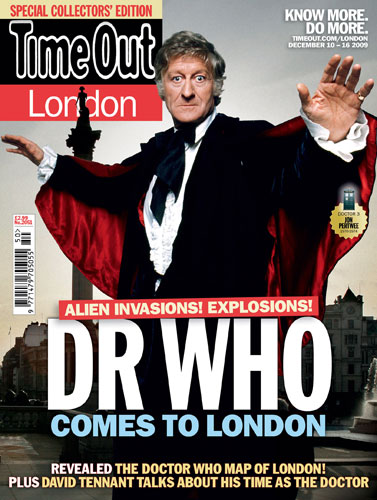 The Grauniad has gamely attempted to match a bit of spiel about each Doctor to the various covers, referencing the fraction of a second parliament is glanced in the TV Movie.
In fairness DWM does the multiple cover routine on a fairly regular basis these days, and the London connection is an interesting one. Whether the associated articles are remains to be seen, but the dubious quality of a couple of the badly-Photoshopped cover doesn't inspire a lot of confidence.
Still, there's interviews with Tennant and Matt Smith, and no doubt another modest and self-deprecating piece with the admittedly-entertaining RTD, plus a map of Who locations and a FREE POSTER!
I wonder if there's an advert for ERIC?
• You can buy the whole set here for £21, which could conceivably be a good investment if you stick them in your loft for 20 years.