I read an article recently that featured Russell T Davies' views on what he saw as the death of childrens' TV - calling out ITV for ditching children's programming.
As a result I looked up Century Falls and Dark Season on DVD and - while I was there - searched for a DVD of Archer's Goon, a fondly-remembered Children's BBC drama by Diana Wynne Jones, who died last year.
I don't think it's on DVD - I couldn't find it anyway - so I turned to the internet. Needless to say someone has uploaded the entire series, so I enjoyed watching the whole series of six episodes over a couple of days.
It's very very enjoyable - and I have no problem admitting that I enjoyed these BBC dramas in their 5.10pm slots as much as I enjoy watching them now. Certainly some of the acting and SFX are a bit wonky but the sheer oddness of the whole thing is kind of enchanting.
There was a great movement in the 80s and 90s towards programming for children that revolved around words like 'gritty' and 'realistic'. There's certainly a place for that in childrens' programmes - I understand there's a very popular programme called Tracey Beaker these days about a kid on a foster home (or something) - and, on the flip side RTD is now developing a programme called Aliens versus Wizards. It sounds, to me, like the TV equivalent of a deep-fried strawberry milkshake, but there you go.
I'm happy to fly the flag for imaginative, surreal, oddball, funny, frightening dramas that the BBC were incredibly good at producing from the 80s to early 90s. Archer's Goon was, apparently, the last drama made by the Children's BBC drama department (can't verify that; read it somewhere), which seems like an enormous shame.
Anyway, I've embedded the first episode of Archer's Goon below, the rest can be found here. It's saying that you can only view the five-minute preview without installing something or other, but I managed to watch it all online on a Mac.
I remember reading an interview a few years - mid-90s at a guess - in which someone, possibly Mark Gatiss, said he was sure that Doctor Who would return one day because there'd soon come a point where people in strategic positions all over the higher echelons of the BBC (or media generally) would be Doctor Who fans.
It struck me as a thrilling prospect - and one that made a lot of sense. You only have to look at the people who worked on the New Adventures and follow a few of their career paths to see how true that prediction turned out to be.
I thought I'd see how true it was and found that Doctor Who creeps into various different areas of UK media - almost as if someone had interfered with their personal time lines 40-odd years ago and ensured they were in the right places at the right time...
Writing and production staff with direct involvement in new series
Russell T Davies
Steven Moffat
Mark Gatiss
Gareth Roberts
Neil Gaiman
Chris Chibnall
Rob Shearman
Gary Russell
Paul Cornell
Matthew Jones
Simon Nye
Richard Curtis
Actors with direct involvement in new series
David Tennant
John Barrowman
David Walliams
Peter Kay
Simon Pegg
Miscellaneous authors
All have been published or commissioned for TV/audio scripts outisde of Doctor Who, as far as I can tell
Marc Platt
Ben Aaronovitch
Andy Lane
Lance Parkin
Justin Richards
Martin Day
Simon Winstone
Mark Morris
Paul Magrs
Robert Perry
Miscellaneous actors and writers with some (possibly tangential) involvement in new series or spin-off media
Reece Shearsmith
Stephen Fry
Kim Newman
Michael Moorcock
Jon Culshaw
Nev Fountain
Mitch Benn
Matt Lucas
Russell T Davies, not a man given to modesty, remarked recently how he'd dug out Rose - the story that relaunched Doctor Who in 2005 - and rewatched it for the first time in years.

He had feared that it would not look that impressive but, blow him down with a feather, it was wonderful and funny and clever and lovely!
Was it? I don't think I've rewatched Rose since 2005 either but it was on the telly the other night. I loathed Rose at the time and was not keen to rewatch it either, but I thought I'd give it the RTD test.
Rose is a funny one, because a couple of years before it hit the screen I'd mused that a rebooted series could do a lot worse than a rehash of something like Spearhead From Space. Fast, simple, scary. Maybe RTD had the same thought, or maybe he just wanted an established monster with a neat set-up that could frame a knockabout story and act as a bone thrown to fans.
Whatever the case, I nearly went upstairs and burned my copy of Doctor Who - The Unfolding Text afterwards, back in March 2005. Weirdly enough, I loved The End of the World the next week and got back into the swing of it.
So, what did I make of Rose on a repeat viewing. Was it Spearhead From Space or was it, well, Rose? I was eating a bowl of soup at the time so simply jotted down these thoughts on what was playing out on sceen.
The start
That's not the theme tune!
Titles are OK tho- OH FOR FUCK'S SAKE THOSE AWFUL FONTS!
Terrible bontempi Randall and Hopkirk (Rebooted) music to start
Micky established as complete arse by eating a sandwich in a funny way at Rose
Rose doesn't like her job
Ponderous shots of Billie in lift
I can pinpoint the exact Graeme Norton moment here
The next bit
Thankfully music drops off but there's no spooky music in place when the Autons threaten Rose, unless it's a Harry Potter/Midsomer Murders interpretation
"Run!" Good opening line for the new Doc but the dreaded music kicks in again.
Beans on toast - there's a meme we'll be seeing a lot of over the next five years
"Run for your life!" - like that bit
The inescapable music is almost like a soundbed, chuntering away underneath a 14-year old Radio 1 Newsbeat presenter
Moments of Rose just standing around while she waits for a bomb to go off, like a startled cat working out what to do next following a loud noise
Really bad SFX of the burning building - remember reading Bonnie Greer on the Newsnight Review commenting on how cheap it looked. This is what she was thinking of. It was also at the point that, allegedly, a flaming sofa nearly killed a harmless Welsh pedestrian.
Trademark 'people running around, wacky camera' thing that's a constant of Nu Doctor Who that renders any action sequences instantly laughable
The first proper introduction to two really annoying characters - Micky and Jackie.
Thoughts at this point
Fast. Really fast. But like a Big Mac and strawberry milkshake. Empty calories that leave with a sugar rush and subsequent crash - all headache and nausea and guilt.
It's not frightening. Almost everything is played for laughs. It's no coincidence that Moffatt's were best received for years. His episodes were scary.
RTD makes another mistake. He mistakes not being too scary with 'not taking itself seriously'. So any potentially scary moments are full of mugging or people laughing or silly sound effects or silly music.
For a long time Doctor Who was very careful to be the show that was aimed at children but didn't patronise them. At times during the RTD era - Rose for example - it blundered way over that line in a way that's often hard to watch. Seriously, what age group is this aimed at?
Is stuff like Rose a deliberate kick against the po-faced US sci-fi dramas of the time? With a liberal sprinkling of Joss Whedon through a British kitchen sink lens.
Chav culture references embed this firmly in the mid 00s and already serve to make the programme feel dated.
Rose's flat
We get a Yeti in a toilet in Tooting Bec moment that turns out to be Ecclestone in a tower block peering through a catflap. If I were Ian Levine I'd probably assume this was a cast iron reference to Survival.
Jackie quickly established as a slag and the Doctor as asexual. Pity it didn't last.

Gay and alien. Heat. Little Britain. 2005.
An ears comment. I once caught sight of Eccleston's email address - it had the element 'MrPunch' in it. Nice.
Regeneration trauma?
Eccles mugging just wrong; he looks unhappy doing it.
Why does Rose ignore what's going on right in front of her when the Doctor is being attacked by the Auton hand?
Early bit of squirming about between Doc and companion on the floor.
Outside the flat
"See ya" "Hello!" "Sort of, yeah" - do these lines even sound good on paper?
Running and bad music - one of a number of traits that could have formed a mission statement for the next five years.
Eat chips, goto bed and watch telly - another one to get familiar with.
Peter Moffat-esque long shot from Boak.
Earth revolving. Bad but well played by Eccleston - his Doctor remains one that was difficult to pin down.
The Clive bit
Internet bit well played - we nearly get a moment of dramatic tension.
"She's a she" - heh.
Mark Benton playing himself again - is he an Ian Levine cipher?
Appalling Photoshop on Kennedy pic.
Nice speech from Benton.

Wheelie bin = nice idea in promising a set up (plastic=death!) that has remained frustratingly unexplored.
The burp is the TV equivalent of shovelling e-numbers down a kids throat.
Bad bad bad CGI.
Why doesn't Rose notice that her BF looks like Theo Walcott, only knows one word and inexplicably drives his car all over the road?
Restaurant
Things almost get a little frightening here with Noel flashing an unnerving, unnoticed smile but then immediately goes back to 'idiot' for no apparent reason. And Rose doesn't notice at all. Brilliant, brilliant Rose...
Silly wrestling and silly music and silly screaming as it's played for laughs again.
Nice TARDIS reveal.
First properly decent Doctorish moment in the TARDIS as Eccles stops jamming and mugging and shouting for a second.
First appearance of 'stupid ape' meme.
"Lots of planets have a north!"
Anti plastic - something you can get away with precisely once (or not - see also Boomtown, TEOTW, The Parting of the Ways in this season alone).
Ecclestone quintuple take on the London Eye doesn't come off at all due to poor scripting and poor direction - and then we're back running through treacle with Murray Gold - terrible music that sounds like an off cast from the Vic and Bob reboot of Randall and Hopkirk while we see more running on a bridge.
Nestene HQ
All Auton/Nestene things that are interesting (plastic comes to life, automata, facsimiles) are dealt with in throw away comment.
The Nestene Consciousness is a vat of liquid that can talk -apparently, as none of the sounds it makes could be recognised as speech - that is 'terrified' of TARDISes and parlays with other races via the articles of a galactic constitution. What next? Sutekh at the UN?
Weird one-sided conversation that is meaningless without knowledge of story arc and gibberish as we can't understand from the Nestene.
Auton invasion
Back to dreary Jackie who survives about ten thousand autons not shooting her for some reason - bad direction.
Autons break out and promptly... shoot out the back of a minicab, numerous plant pots and a fat bloke. Curiously unthreatening. The fan/Levine cipher is killed off. Hmm.
The action of the Auton invasion is conveyed through a cameraman having a fit. Eventually Jackie gets her cue, having stood still for about a minute looking confused, while people are gunned down by walking shop-window dummies, and runs away screaming - having spent the last 40 seconds looking like she's trying to solve a particularly hard puzzle.
A scene that last for three hours where Jackie is menaced by bride Autons, the Doctor does nothing, Micky establishes just how useless he is and Rose - for the first time among billlons of subsequent times - saves the day by swinging on a chain. Awful, leaden direction.
A scene that could have been great shows a couple of twitching Autons. The sum of the Auton invasion includes a backlit double decker, two tiny fires and some rubbish. That's even less impressive than hijacking a bus.

"You were rubbish" - that's the Doctor firmly emasculated for the next three years.
The end bit
"Work and food and sleep" - yes, we get it.
Micky mugs like a twat.
Weird slomo final shot.
Conclusion
Moffat said he puts in scares for the kids and jokes for the adults, but RTD never seemed to bother with scares. Everything in Rose says 'jokes for kids, different jokes for adults'. It left me feeling completely cold.
Here's something I read recently from Moffatt's 2011 series press launch, which sums up how I feel about Doctor Who.
"You put the jokes in for the adults, and you make it scary to appeal to children. They absolutely rank the best Doctor Who episodes in order of frighteningness."
Indeed.
---
Caves
Fast
Eccleston does OK with some shonky stuff
Confident start for Billie
Twins
Everything else
• Caves and Twins? What are you dribbling on about?
Go here: Caves and Twins
Oddly enough, there's a party political broadcast floating about the web at the moment starring Sean Pertwee - son of Jon, who was a big mate of Jim Callaghan - and boasting a voiceover by none other than David Tennant.

As if to underscore the Who connection, Pertwee even quotes his father:
My father always said "Don't give up."

"Show resolve," he said. He was so right.
Pertwee is presenting a fairly unsubtle metaphor in this election broadcast for Labour, but it's a polished, and gently powerful message in a good-looking broadcast that brings to mind Hugh Hudson's films for Labour in 1987.
There's been something of an explosion in Doctorly support for Labour recently, with Peter Davison stating that he 'tremble[s]' at the idea of a Tory government; David Tennant calling David Cameron 'terrifying'; and Steven Moffat claiming 'stuff would be s**t' under the Tories.
There's also some recent stuff about The Beast Below containing an anti-Tory message; RTD has made his anti-Conservative feelings known on several occasions; and Andrew Cartmel and Sylvester McCoy recently suggested that their era was anti-Thatcher. And don't forget the left-wing Dalek.
For his part, Gordon Brown says Tennant is favourite Doctor (well, it was going to be either him or McCoy wasn't it?).
Extraordinary stuff. Of course, actors and creatives naturally lean to the Left, and if Doctor Who isn't a show that revels in left-wing, or at least liberal, ethics then I don't know what does. There's a long-running debate as to whether there are any Tory Doctors, with the Third mentioned most frequently, though this has always struck me as unlikely.
The Doctor Who Forum's politics thread currently shows a heavy bias against the Conservatives in a poll on likely voting behaviour of those on the board, which poses some rather chicken-and-egg kind of questions.
What would The Doctor make of it all? It's tempting to imagine Hartnell, wildly off-script and taking advantage of time constraints in 1964 urging 'all of you at home' to vote for the pipe-smoking chap. Then again, with Billy's habit of fluffing names, he'd probably end up backing Herman Walton.

Sean Pertwee and David Tennant in The Road Ahead
Another archive TV review from our kidda.
Life On Mars is back. Rather like the new Doctor Who and Torchwood has allowed Russell T Davies to purge a lifetime's worth of stupid, banal ideas too silly to use on any other project (farting aliens? It's been done before), and channel them into a children's sci-fi show, so Life On Mars allows its makers to re-live their youth growing up in the 70s with lots of over-the-top cockney cop shows.

But there's more to it than that. You'd get into trouble if you just did a straightforward pastiche of a 70s cop show in this day and age. So Life On Mars incorporates a neat framing-device; it has its lead character suffering from some kind of head injury, so he only thinks he's back in the 70s!
So lots of highbrow viewers, who would normally dismiss such self-indulgent tosh, can watch safe in the knowledge that they're participating in a kind of clever comment on modern drama. And not some kind of televisual form of self-abuse after all.
• Meanwhile, BBC2 has been showing one of those social experiment shows in the form of The Verdict. A team of 12 celebrity jurors adjudicate on a fictional case (in this instance a rape case, just to really get them foaming at the mouths). The case is portrayed as close as possible to real life, with a real judge and real barristers.
The quality of the celebrities ranges from famous (Honor Blackman) to niche (Patsy Palmer, Michael Portillo, Alex James and just about all the others) and finally prats (to avoid even the slightest possibility of litigation, this individual shall remain unnamed, but suffice it to say that he has the words 'Collymore' and 'Stan' in his nomenclature).
Collymore, with his almost universal reputation for brutishness, is only there to make a fool of himself and reveal the worrying heights of intemperate mob-thinking in this country, and he does a very good job of conjuring up such an atmosphere in the early exchanges.
But while it may come as no surprise to see Collymore expose himself as a reactionary ignoramus of the highest order, it's startling how annoyingly reasonable Portillo seems these days. His observations are intelligent and reasonable. Was he always like this? He often comes across as a card-carrying liberal. I'd quite like to have a drink with him.
All this coming from a man who used to shit in John Major's chocolate soufflé and cackle devilishly for hours afterwards, plotting his wicked way towards the Tory leadership. Jeffrey Archer is also in the line-up, however, and he comes across much as you might expect him to. I guess some things never change.
Noel Brown
Knockout collector item or cynical cash-in? Make your own mind up about Time Out's Doctor Who In London special, complete with ten different cover. Guess, if you can, what's on them.

Yup, the whole damn lot of them in a number of Doctor+London image pictures of varying quality and relevance.
All the covers attempt to picture the various incarnations of the Ka Faraq Gatri in front of a London landmark that supposedly bear some relevance to one of their adventures, so for Hartnell it's the Post Office Tower; Troughton Saint Pauls; and McGann, er, the Houses of Parliament.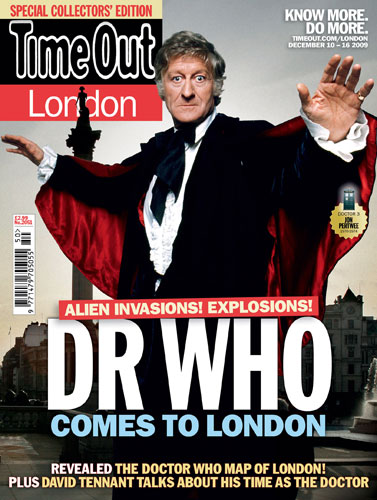 The Grauniad has gamely attempted to match a bit of spiel about each Doctor to the various covers, referencing the fraction of a second parliament is glanced in the TV Movie.
In fairness DWM does the multiple cover routine on a fairly regular basis these days, and the London connection is an interesting one. Whether the associated articles are remains to be seen, but the dubious quality of a couple of the badly-Photoshopped cover doesn't inspire a lot of confidence.
Still, there's interviews with Tennant and Matt Smith, and no doubt another modest and self-deprecating piece with the admittedly-entertaining RTD, plus a map of Who locations and a FREE POSTER!
I wonder if there's an advert for ERIC?
• You can buy the whole set here for £21, which could conceivably be a good investment if you stick them in your loft for 20 years.