For some reason I decided to watch the TV Movie - mainly as I reckon I'd not seen it this century. Like all ming-mongs do, I decided to go back and watch it, well, because it's Doctor Who.
Obviously I didn't watch it without listlessly browsing the internet at the same time, so I live tweeted it. I got a bit of feedback form Hellyer, so there's the occasional bit of interplay.
However, it's mainly what I thought of it - what occurred to me at any given time during the 90-odd minutes of running time.
How does it hold up? Well, very very badly is the answer. Praise the Lord that there wasn't a resulting series, because if you've seen the calvacade of dross produced by various writers employed by Philip Segal it will have you running into the arms of Chris Chibnall.
Incidentally, Philip Segal's role is an interesting one to ponder at this time. Even though some of instincts were correct and others woefully off-kilter thanks to years - at a guess - of working on dross like SeaQuest DSV, it's fairly clear that he was pretty much the only one looking out for Doctor Who and believing in the series in those wilderness years. I'd buy him a beer.
What works? Well, McGann has some good moments, as does Eric Roberts. Geoffrey Sax has some deft touches too and Mathew Jacobs manages to salvage a few nice lines from the group-thunk nonsense that was left after the BBC, Amblin, Fox, Universal, ABC, NBC, WWE, WCW, NASA, BNFL, ITV and Gary Frigging Russell had their way with it.
Overall, however, I think Daphne Ashbrook does best in the TVM. No doubt Big Finish will be commissioning a 400-disc box set written, produced, scored, directed and staring Barnaby Edwards and Nick Briggs soon. And I might even listen to one or two.
Caves and Twins - the TVM
I'm watching the TV Movie. What can possibly go wrong? It's a request my brother should never have granted.
THAT MUSIC'S FUCKING AWFUL #TVM
Who sniffs a Jelly Baby before eating it? And with a cup of tea?
The bit where Sylv is frantically pushing TARDIS buttons console is so good it made up most of the TV trails for the TVM. And little else
Ah, a gun fight between San Francisco triads. If that doesn't scream 'Doctor Who' I don't know what does
Why - apart form idiotic exposition and 'injured' acting would the Doctor be saying 'timing malfunction to a hoodlum he's only just met?
That's a lovely introduction for Grace, though. Wonderful cleavage too.
'I need a beryllium atomic clock!' Uh-huh. I know this is inviting scoff, but Sylv is absolutely terrible in this. Is he even acting?
That scream is pretty amusing though. All Docs should do that just before they regenerate. #tvm
Surely Bruce the ambulance driver should have been called Seth Terma or something? #tvm
Will Sasso being a comedy fattie. Actually bits of this are OK. Oh, Frankenstein - is there a really subtle metaphor I've missed here? #tvm
Walking down the corridor humming Puccini is nice - and the mirrors in the old wing of the hospital. But Who Am Argh! is crap #tvm
Lee going through the Doc's belongings is nice. And someone is going to a fancy dress party as Tom Baker? #tvm
Great murder by The Master. They should have played is Dudley Simpson leitmotif though #tvm
Ah, the American health system. Evil through and through. This would never happen under Obamacare #tvm
@james_hellyer [Eric Roberts] gets it in the same way that Graham Crowden and Paul Darrow did
I really hate the thing about the Doctor knowing everyone's future and/or their deepest desires. He just comes across as a sex pest #tvm
And now it looks like he's trying to take his trousers off in the back of Grace's car #tvm
Grace Holloway drives a Range Rover. And Bruce owns a pair of aviators and a massive leather trench coat #tvm
The nurse doesn't see anything odd about Bruce peeling off his finger nail and flicking it onto her work? Ridiculous #tvm
I also hate it that the Doctor goes around moodying famous figures from history, like some desperate time-travelling starfucker #tvm
Murray Gold must have been taking notes when watching this. Bad 'magical' Hollywood-lite music #tvm
McGann's really short. #tvm
I really dislike that 'these shoes fit perfectly' stuff. It just comes across as try-hard kookiness. #tvm
Why would Lee be bothered about who Genghis Khan was? Or this weird backstory The Master concocts? Didn't he just threaten to kill him? #tvm
Well, at least the cloister room doesn't have a fucking pterodactyl or vortisaur in it #tvm
Oh dear, the plot's kicking in. Things are about to take a turn for the worst. #tvm
So, TARDISes are designed to open their power source when a human eye looks into a blinding beam of light hidden beneath a staff? #tvm
How long was the Doc kissing Grace for? Why did he remember who he was or know the Master's plans? ACK! The crippling exposition! #tvm
The Doctor drinks tea. BECAUSE HE"S BRITISH. #tvm
Midnight huh? Neat dramatic coincidence. 'By 4.37pm next Friday this planet will be pulled inside out' #tvm
'...always seeing patterns in things that aren't there'. The Eighth Doctor is obviously a climate-change denier with that comment #tvm
Eric Roberts is great in that bit I'll give him that. The transference line and 'I don't like it!' - Ainley would've done it better tho #tvm
All of the bike cop bit is quite well done by all concerned too. "He's British" explains everything. #tvm
I prefer the ambulance chase in Spearhead From Space. And the bit where the Doc is strapped to a table in Mark of the Rani #tvm
I finally meet the right guy and he's from another planet? Where on Earth did that come from? Apart from a different draft. #tvm
The constant supply of coincidences is surely a record - the clock; the guest list, the ambulance - even in Doctor Who #tvm
They tell cock jokes on Gallifrey? Quite a good line though. That professor dude looks like a paedophile #tvm
The Master has jizzed on those security guards? 'Liven things up' is another Doctorish thing though. #tvm
Phew. It's one of those 'slow release' fire hoses. Thanks God for that. #tvm
The universe hangs by such a delicate thread of coincidences. That's a stroke of fucking luck, eh Doc? #tvm
That's a really crapulous Scooby Doo bit of throwaway, desperate attempted humour. The pseudoscience bit quite good tho #thebikebit #tvm
'are you any good at setting alarm clocks?' Eh? Scary black-eyed Grace is good though. #tvm
Yes, I can't see anything wrong with buddying up with this green-eyed, possessing, sadomasochistic pervert #tvm
Bit of a design flaw, that. #onlyhumanscanopengallifreyantimecapsules #tvm
There's some nice directorial touches here by Geoffrey 'Tenor' Sax in the back-and-forth between the Master and Doctor #tvm
Lucky Grace know how's to rewire a time machine #tvm
McGann sounds a bit like Colin Baker there. Wouldn't it have been fun if he'd been recast? #tvm
It would've been great if Pertwee / Delgado or Davison / Ainley had had a punch-up #tvm
[replying to Hellyer's observation that the Doctor doesn't try too hard to rescue the Master form the Eye of Harmony] Yeah, his hearts aren't in that. At least he doesn't cry like Captain Emo #tvm
Be great if the TARDIS brought back the Master as well. Big fat reset switch. Better get used to it. #tvm
That punch of the TARDIS console is McGann's best moment #tvm
The music swell, the fireworks, the kiss. I expect it rankles because I'm a sad fanboy who's never had sex, rather than it being shit. #tvm
Oh no, not again. Well, quite. Chances are I'll never watch that again. #tvm
Never seen this before - and never actually knew it was publicly available. This seems a little unfair to McGann, but hey ho.
There are a few things of interest here: McGann's reading is very still, very focussed – but there's an odd distance to him too. It's very alien, very Doctorish and rather more unsettling than his rather more excitable portrayal in the utterly appalling TV movie.
There's a flash of the excitable Eighth Doctor when McGann is told to be more excitable – and it;s recognisable from his sole TV portrayal and Big Finish efforts, which I've never really warmed to.
What's also noticeable is the script he's reading, a lot of which will be familiar to anyone who's had the misfortune to come across the Leekey Bible – Philip Segal's manual for the Universal/BBC that, thankfully, never was.
To borrow an epithet from Tom Baker, Id call it undiluted whippet shit. It's hard to listen to and McGann does well not to start laughing out loud at how terrible the whole thing is.
The Master is the Doctor's brother; the Doctor is half-human, borne of an earth woman and a Gallifreyan adventurer called Ulysses. It's a car crash of a dozen hackneyed sources with a few Doctor Who references thrown in for good measure.
That McGann got through the audition is one thing; that he still wanted the part is scarcely believable.
NB. Since all of this kicked off The Moff has issued a kind of 'get your kids of my lawn' response and private Eye basically suggested that the BBC leaked the news in an effort to undermine Moffat, with whom it is quickly losing patience. Make of that what you will.
A new Doctor Who film? Those fans who might conceivably have watched The Twin Dilemma when originally broadcast may recall a few other Doctor Who films supposedly in the pipeline through the decades.
Tom's Doctor Who meets Scratchman, written by himself and Ian Marter, starring Vincent Price and funded by crumpled £1 notes mailed to Tom from keen fans.
The ones suggested in the very early 90s that would star Donald Sutherland and feature a rapping TARDIS perhaps (I defaced the images of Sutherland in anger) or the more recent Tennant-and-Piper rumours.
Then there was the TVM. Well, they got McGann pretty much right, but the rest was an absolute mess - a more fitting example you could not find of what happens when people who don't understand or care for Doctor Who make Doctor Who.
Today has brought with it the news that Harry Potter director David Yates will helm a new Hollywood film featuring a strange character called Doctor Who (never heard of him) that will reboot the series and stick two fingers up at 50 years of canon.
Quite why these rumours have come to light again - about two years after they were first mooted and repeated today with historic quotes - is not clear. Are BBC Worldwide trying to kickstart the project? Has a bored hack in search of an article dug up an old story? Or has someone sniffed that something is actually happening on this front?
We'll wait and see. For now let's look at the claims Yates made about his new film. In a move that could not have alienated the show's fanbase more if he's threatened to cast Vin Diesel, Yates claims that the film will be "starting from scratch".
Why on Earth would you do that? The show has the most malleable format in the genre, perhaps all TV. You can change the lead cast without ditching anything. This is something that has happened innumerable times over the show's history.
If Yates wants a good example of how to kick off a new series - or new interpretation - he need only look to Rose, a terrible episode but a great example of kickstarting something new without abandoning all the good stuff.
It's an important reminder that we've had people at the helm who cared about the show - we know that RTD kiboshed stuff like a female Doctor, a Young Doctor Who series on CBBC and more; and that even Tennant was very protective of what the show did and didn't do.
It's impossible to image Moffat taking the show into taboo territory too. We've been lucky that since the reboot - and in the good old days - we had people who looked after the show as best they could.
Unfortunately, Worldwide is a financial entity and must surely be scenting hard cash and, conceivably, a billion-quid money-spinner like Lord of the Rings or Harry Potter over a multi-film series that would make the TV show look like A Fix With Sontarans in comparison.
That's presumably the thinking behind recruiting a director with no apparent understanding of Doctor Who whose looking to recruit a writer with no apparent understanding of Doctor Who.
Yates pays tribute to Davies and Moffat's visions - and in the same breath announces that he's going to trash it all. Where's the logic to that?
He also says Doctor Who "needs quite a radical transformation to take it into a bigger arena". Does it? Isn't the exact point of the show - its appeal and its essence and its very artron energy - that it's a quaint little British show? Certainly it does epic storylines and its format and tone is elastic but it's always recognisably the same.
RTD and Moff clearly understand this and fandom has largely taken to their series. Perhaps it didn't need older fans, but the likes of the two show-runners are fans after all.
The show doesn't necessarily need a fan to take it to the big screen - or a Brit. But I feel sure that it would be a better product for it - and we have two people who can wield an enormous amount of power in the TV and media world, not to mention people like Neil Gaiman, Stephen Fry and Mark Gatiss who are steeped in the show and are professionals in their own right.
Alas, if what we read is to be believed then Yates directing makes perfect sense in the eyes of BBC Worldwide. They won't give two flying figs if the Doctor carries a gun, shags a busty American and has a time capsule voiced by Mos Def (actually, I like Mos Def, that could work) if it brings in the bucks.
What would this do for the TV show? Undoubtedly, if successful, it would kill it off. How could you have a TV series and a film series running in parallel that directly contradict one another? The film idea dovetails with the growing suspicion that Who might bow out on the small screen shortly after the 50-year anniversary. Torchwood, in all likelihood is gone. The Sarah-Jane Adventures are sadly no more. Confidential is canned. In a very short space of time Doctor Who has been whittled away to the main show, and there are increasing ructions over production, money and quality in the mothership.
All told then, I don't really see an upside to the film. We've had six largely enjoyable seasons of NuWho that has given repeated, respectful nods backwards. It's all about to be usurped by a new film series that chucks it all in the bin.
The two films we have are cute curios, but they're hardly high quality. The abandoned film projects all looked awful. The TVM was dreadful. Yet the BBC appears to have learned nothing.
Doctor Who doesn't need a film. If it's coming to an end as a going concern on TV the natural development is to segue into a 'specials' format. Canon or the heritage aren't the issue I have with a new film. I simply fear it would be bloody awful - and history has plenty of warnings when it comes to big screen Who.
Knockout collector item or cynical cash-in? Make your own mind up about Time Out's Doctor Who In London special, complete with ten different cover. Guess, if you can, what's on them.

Yup, the whole damn lot of them in a number of Doctor+London image pictures of varying quality and relevance.
All the covers attempt to picture the various incarnations of the Ka Faraq Gatri in front of a London landmark that supposedly bear some relevance to one of their adventures, so for Hartnell it's the Post Office Tower; Troughton Saint Pauls; and McGann, er, the Houses of Parliament.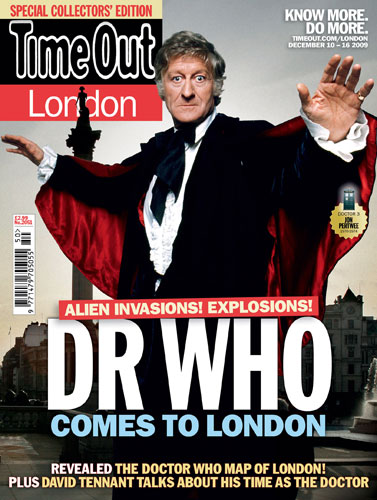 The Grauniad has gamely attempted to match a bit of spiel about each Doctor to the various covers, referencing the fraction of a second parliament is glanced in the TV Movie.
In fairness DWM does the multiple cover routine on a fairly regular basis these days, and the London connection is an interesting one. Whether the associated articles are remains to be seen, but the dubious quality of a couple of the badly-Photoshopped cover doesn't inspire a lot of confidence.
Still, there's interviews with Tennant and Matt Smith, and no doubt another modest and self-deprecating piece with the admittedly-entertaining RTD, plus a map of Who locations and a FREE POSTER!
I wonder if there's an advert for ERIC?
• You can buy the whole set here for £21, which could conceivably be a good investment if you stick them in your loft for 20 years.