Just a quick tribute to writer Mervyn Haisman, who has died.
Haisman, along with Henry Lincoln, wrote the two Yeti serials from the Troughton years, which are two examples of Doctor Who at its absolute finest, in my book. I can't count the number of times I read Web of Fear, the Target novelisation was always in my desk at school, and I still think of whenever I'm travelling around the Tube in London.
Both The Abominable Snowmen and The Web of Fear are, sadly, no longer in existence but the two stories can be heard on Yeti Attack! from BBC Radio. Web is famous, of course, for introducing The Brig, and the superb Nick Courtney. The audio books are wonderful, and I commend them to you.
Here's a little animated trailer I found on Youtube for the latter. Thanks for the memories, Mervyn.
Sydney Newman wanted to turn Sylvester McCoy into a woman, the Torygraph 'revealed' today in a report on what a spot of archive research turned up while the extras for Time and the Rani were being shot.
Thing is, I'm 99 per cent sure all of the stuff in the newspaper's report was already well known. I remember reading all of this some time ago, in what I imagine was one of Andrew Pixley's comprehensive Archive pieces in DWM or possibly the Howe-Stammer-Walker 80's book. Either way I reckon it's a good 15 years since this research first came to light.
Newman, recognised as the person who can lay most claim to being the creator of Doctor Who (not Terry Nation or Vere Lorrimer!), was drafted in to reboot the series at the end of Colin Baker's tenure.
Unfortunately Newman's ideas for a rebooted series were utterly abysmal, consisting of a time-warp back to the early sixties where Patrick Troughton would be brought back in with a couple of children as companions; one of whom would brandish a trumpet whose sound would herald the start of battle.
The one thing I clearly recall is that Newman suggested that the new Doctor should say 'Hush, child, you're addlepating me!' whenever the young companions were talking too much, or something.
One of the story outlines he details is a literal lift from Planet of the Giants too, while another suggestion involved the three regulars being shrunk and injected into a human body. Two ideas about 40 years past their sell-by-date.
This has always suggested to me that Newman scrawled down a load of old tat on the back of a fag packet during a boozy lunch – and if people thought the last three years of Who during its original run weren't that good, they would pale into insignificance if the car-crash television envisioned by Newman had come to pass.
The headline element to it all, of course, is the suggestion that the Doctor should be turned into a woman, something I've always thought of as a horrible, senseless gimmick that not even JN-T or RTD ever seriously considered.
The Telegraph article ends with a quote from some 'women in science' group who reckons - surprise, surprise - that the next Doctor should be a woman for some reason too tedious to explore any further.
I suppose this story has broken in the national press now because 2Entertain are trying to flog Time and the Rani; a desperate task by any standards. Ed Stradling was apparently 'astonished' by the contents of the Newman letter; something that must come as a surprise to Doctor Who fans.
Anyway, the release of Time and the Rani should give us time to reflect on all of this. I personally think that it's a story of totally unremitting dross, with literally nothing to redeem it.
It's become fashionable to call Pip and Jane Baker's nadir (I know, I know!) things like 'wonderful and silly' and 'lovely and fluffy' by people who should know better. It's utter shit and hails from a period when Who was almost totally lost.
For my money it got somewhere near back to its best over the next two seasons - with some obvious exceptions - and it's a huge relief that we got stuff like Ghost Light, Remebrance, Fenric and Survival instead of Newman's addlepated vision.
Good old Syd. We have a lot to be grateful for. But, by God, a rebooted Newman series in 1987 may well have killed off Who for good.
So that was Series Five. Or Series 31. Or Series One. Or Series Chin, whatever you want to call it.
The stakes were high, with news that filming was overrunning horribly, Matt Smith was crap and kept forgetting his lines, Karen Gillan was 'wooden' and Phil Collinson had been called back in to sort the whole mess out.
We won't reveal our sources, although it seems entirely likely that pretty much everyone in fandom knows where they came from, but let's just say there was an element of fear going into Series Fnarg.
And how wrong we all were eh? Chief among this wrongness were the rumours that Smith was crap. In fact, it's hard to imagine this being any further off the mark.
Matt Smith is wonderful, and his gentler, more alien, Doctor is perfect for Moffatt's 'fairytale' Doctor Who. The whole tone of this series feels a more comfortable place for Doctor Who, and the Doctor, to be than Russell T Davies' iteration - which was a series of ever-decreasing circles by the time the excellent David Tennant went, though his Doctor was not highly-liked in these parts.
It seemed almost unthinkable that the series, and Smith, could carry on where RTD and Tennant left off, but a fairly hefty shift in tone and pace and lead character has made it all look rather effortless.
For the first time in quite a while, the series felt much more Who than it had in a long time. Smith may just be the best Doctor... ever.
But while all the big things got sorted out, the parts that made up the whole didn't always feel right. Murray Gold's presence dragged the series back to a RTD vibe, and his syrupy/BOMBASTIC! style took away a lot of the nuances of the new series.
More bizarre still were some of the author/story choices. Toby Whithouse and Chris Chibnall delivered exactly what their previous stories suggested they'd deliver - utterly underwhelming stories that felt like a throwback to a couple of years ago.
Against rather lovely oddities like Amy's Choice, Vincent and the Doctor and The Lodger, they felt jarring in their straight-forward simplicity.
Mark Gatiss' Victory of the Daleks was, by all accounts, rather hacked to death in the editing suites and the end result was, frankly, a mess.
And stepping up to show-runner certainly sapped Moffatt's brilliance, with the slapdash The Beast Below and breakneck incoherence of The Big Bang.
There were no new, interesting monsters. In fact, the closest thing we got were the rubbish new Daleks. We had to put up with CGI thing hiding inside humans on at least three occasions, and the limits of the budget were evident in The Pandorica Opens when it turned out the Fucking Sycorax and the Fucking Weevils were in on the intergalactic plan to put the Doc away for good.
Still, Moffat handled the Autons and the Cybermen ten times better than RTD ever did - another subtle difference to the approach the two brought to the series.
And yet, funnily enough, it didn't really matter to me. The series felt fresh and fun. The Doctor seemed like, well, The Doctor. And Amy was breath of fresh air; a believable, volatile girl who didn't love her favourite Time Lord.
She may have had a slightly less healthy obsession with him, but inter-personal angst was banished from the TARDIS forever - 'I'm not that clingy!' seemed like a great riposte to the years of Marf and Wose.
Arthur Darvill's Rory eventually eclipsed the 'emasculated male' cipher that's been the default setting for most recurring male characters in the new series to become a rounded companion in his own right.
And, always at the centre of it, was Matt Smith. It's interesting to note that most new Doctors come into the role praising Patrick Troughton, and Smith took it a step further.
Watch him running - it's a straight lift from the Second Doctor. And he's always doing something with his hands - First Doctor? There's a bit of Four, Five and Eight in there too by our reckoning.
Not that The Eleventh Doctor is a pastiche; Smith has brought something new to the role again, and emphatically made it his own. He's a perfect choice.
So, series thingummy. A hearty slap on the back from us, and the best TARDIS crew in ages. No doubt tweaks will be made for next season.
Probic Vent demands Zygons and Yeti and the Dream Lord and a past Doctor and The Brigadier. And a remake of The Horror of Fang Rock. Simple enough eh? Oh yeah, and STOP RUINING OLD MONSTERS!
• Here's an end-of-season C&T for the series.
Caves
The Eleventh Hour - Fresh, fun and firmly established Smith as something new and interesting
Time of Angels/Flesh and Stone - A home run from Moffat, with plenty of twists and turns and great monstering
Amy's Choice - Offbeat and enjoyable - an episode that seems unthinkable under RTD.
Vincent and the Doctor - Intriguing, if cloying
The Lodger - Would have been horrible with Tennant. Good with Smith.
The Pandorica Opens/The Big Bang - Absolute gibberish, but wins points for not having thousands of cloned Sontarans invading the Taj Mahal and Eiffel Tower. Magic Light and Power of Love notwithstanding.
Twins

The Beast Below - Too many elements that didn't seem to add up.
Victory of the Daleks - A horrible mess, and shit new Daleks. Almost saved by performances, but not quite.
Vampires of Venice - Dull filler
Hungry Earth/Cold Blood - Dull Chibnall filler that fluffed one of the most interesting premises in Who mythology.
• Caves and Twins? What are you dribbling on about?
Go here: Caves and Twins
There's a great article on the BBC website today about documents uncovered from the BBC archive relating to regenerations, the first example in particular.
It reveals that Troughton got something of a rough ride from viewers at the time – and that the regeneration process was conceived as some sort of horrifying acid trip.
I've always thought the whole regeneration thing may just have been a back-of-an-envelope kind of thing that could have gone either way.


On several occasions the series has only just escaped cancellation as one of the leading actors takes his final bow, but the transformation between Hartnell and Troughton must have been especially tricky.
It's interesting to posit a world where Doctor Who went the way of Adam Adamant or some other fairly small-fry cult sixties series – and a derisive snort from a big wig at the Beeb could have nixed the resulting 44 years.
There's also some more information on viewers' reactions to new Doctors and press clippings and the like. Seems no-one really gets to grips with the new Doctors at first, though that's a trend that remained throughout all of poor Colin Baker's tenancy, at least until Big Finish rescued Colin and his Doctor.
Much of it presumably derives from the sort of stuff Andrew Pixley used to dig out of the archives, but is worth looking at nonetheless.
Anyway, this new find comes from a dedicated Changing Face of Doctor Who section on the BBC website about unarchived Who stuff, which is well worth leafing through.
• There's also an existing section on the start of the series, called The Genesis of Doctor Who
It was pretty refreshing to see the Eleventh Doctor punching some bloke's lights clean out on the new series trailer than showed back in January, following a few years of sanctimonious stuff from RTD and Ten about how 'violence is bad, m'kay?'.
So much so that it stirred my mind back to a simpler time when The Doctor would casually dispatch villains in a variety of ways, including blasting them with guns, pushing them into acid baths and gassing them with cyanide. The good old days, as I like to call them.
So, I've compiled a list of ten moments of shocking violence in Doctor Who - perpetrated by the Time Lord himself.
1. An Unearthly Child
The original and the best. The First Doctor is stopped by Ian, seconds before he stoves in the head of a wounded caveman with a rock.
2. The Dominators
The Second Doctor places a nuclear device on the Dominators' ship, blowing them out of the sky.
3. Inferno
The Third Doctor smilingly explains to the Brigadier than the Venusian grip he has applied to Stahlman will soon paralyse him for life. Similar venusian chops, kicks and jabs pepper the Third Doctor's era.
4. Day of the Daleks
The Doctor casually blasts an approaching Ogron, blowing Ten's 'be the man who never would' speech out of the water.
5. The Brain of Morbius
The Fourth Doctor gasses Solon with cyanide, in a move that could easily have left him and Sarah sealed in a crypt forever.
6. The Seeds of Doom
Four punches out a henchman with a thinly-disguised relish. Later on he twists Scorby's neck, as if to break it, after punching him in the gut.
7. Arc of Infinity
The Fifth Doctor simply shoots Omega.
8. The Twin Dilemma
The Sixth Doctor tries to strangle Peri to death.
9. Vengeance on Varos
Take your pick. Doc Six maneuvers two guards into a BATH OF ACID and leaves two different booby traps involving stinging plants and a laser to kill two cannibals and a guard.
10. The Two Doctors
The Sixth Doctor chloroforms Shockeye to death.
I've got nothing on the rest, barring the Seventh Doctor's disabling of Patterson in Survival and the Ninth Doctor's knocking out a guard in the one where Rose turns into the Time Vortex, or whatever the hell it is that happens in that episode.
Have I missed any obvious ones? It wouldn't surprise me to discover that Hartnell stabbed someone in the neck in one of his less obvious stories.
Knockout collector item or cynical cash-in? Make your own mind up about Time Out's Doctor Who In London special, complete with ten different cover. Guess, if you can, what's on them.

Yup, the whole damn lot of them in a number of Doctor+London image pictures of varying quality and relevance.
All the covers attempt to picture the various incarnations of the Ka Faraq Gatri in front of a London landmark that supposedly bear some relevance to one of their adventures, so for Hartnell it's the Post Office Tower; Troughton Saint Pauls; and McGann, er, the Houses of Parliament.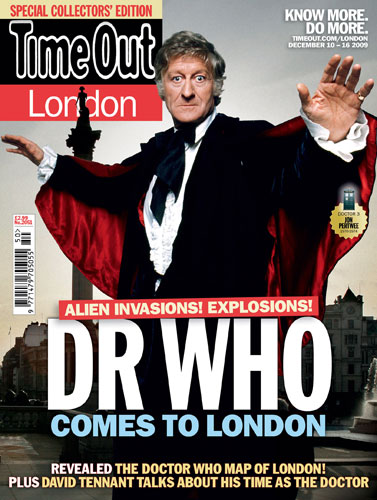 The Grauniad has gamely attempted to match a bit of spiel about each Doctor to the various covers, referencing the fraction of a second parliament is glanced in the TV Movie.
In fairness DWM does the multiple cover routine on a fairly regular basis these days, and the London connection is an interesting one. Whether the associated articles are remains to be seen, but the dubious quality of a couple of the badly-Photoshopped cover doesn't inspire a lot of confidence.
Still, there's interviews with Tennant and Matt Smith, and no doubt another modest and self-deprecating piece with the admittedly-entertaining RTD, plus a map of Who locations and a FREE POSTER!
I wonder if there's an advert for ERIC?
• You can buy the whole set here for £21, which could conceivably be a good investment if you stick them in your loft for 20 years.